cPanel SSL Certificate Expiry Notices Bugging the Heck out of You?
Yes, we are aware of how irritating those cPanel SSL Certificate expiry notices can be. Question:
Can cPanel SSL expiry notices be turned off?
Short Answer: Yes.
Long answer: Yes, cPanel SSL Certificate expiry notices can be turned off via your cPanel's "Contact Information" settings page.
This video describes how to disable cPanel SSL Certificate expiry notice emails.
Why Turn Off cPanel SSL Certificate Expiry Notices?
Staging sites, CDNs, and the use of third-party email services like Gmail and Microsoft Office 365 are commonly used in hosting-related services.
Our cPanel SSL Certificate expiry reports are routinely emailed for various reasons, including notices of potential issues and upcoming expiry reminders. However, one rather irritating aspect of these reports is their error reporting.
The web server regularly monitors for SSL certificate errors. When a third-party service is used, as in the case of Gmail or Office 365, the domain name's DNS record will have been set to point to that third-party service. As a result, the SSL certificate cannot be set up for that service on our server, which may then generate an email error report, like the one below: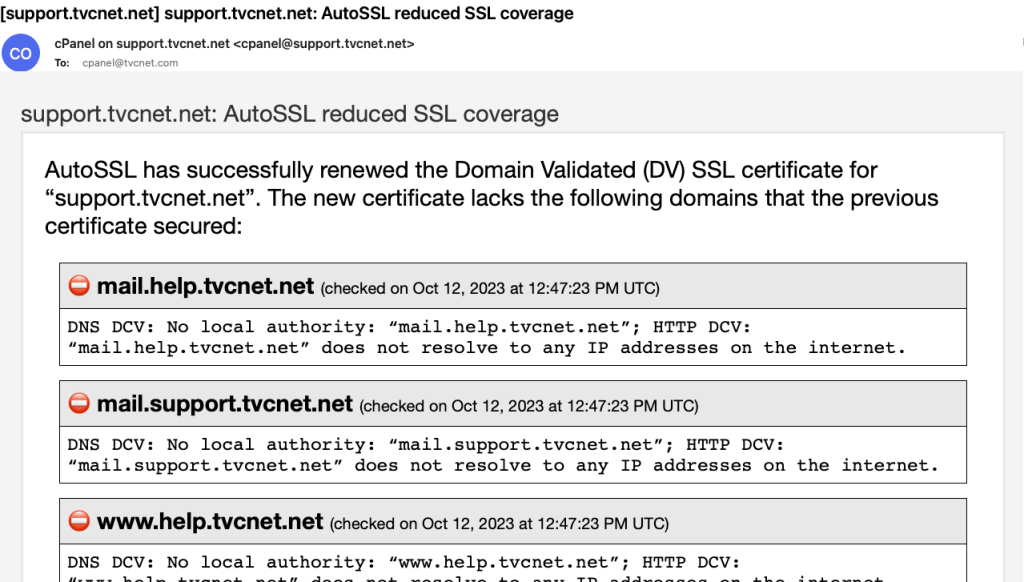 If you're managing multiple websites on a cPanel server, you may find these notices more alarming than helpful. Fortunately, they can be easily disabled.
Hopefully, this clarifies why SSL certificate expiry reports are sometimes sent in error and how to disable them if wish to do so.